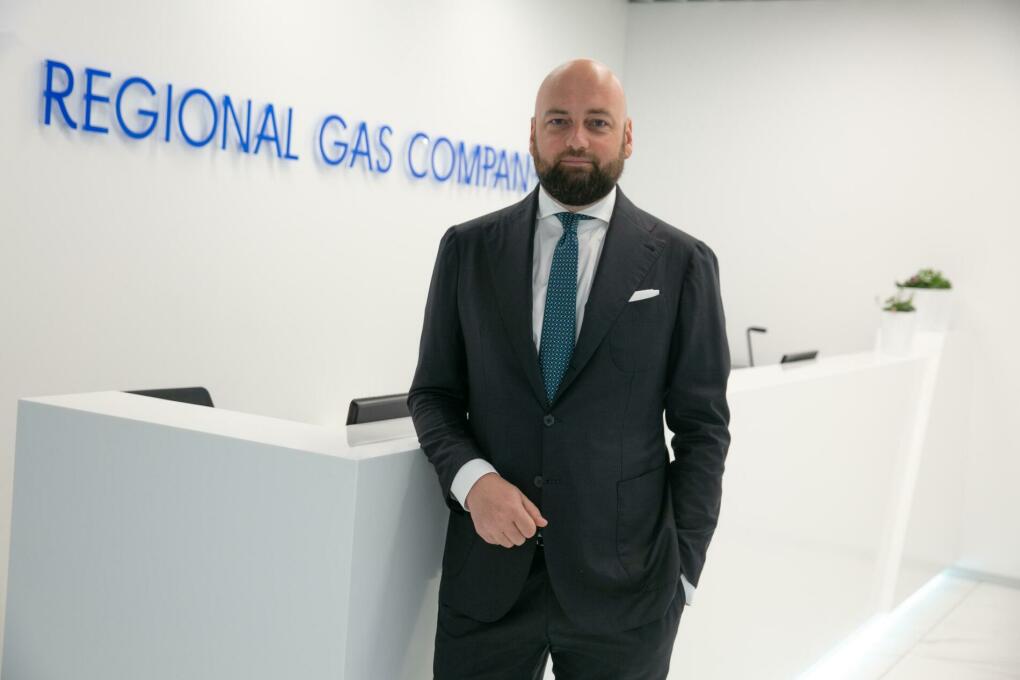 Regional Gas Company (RGC) began to bring together 20 regional gas companies under a common brand 10 years ago. This marked the beginning of Ukraine's retail gas market transformation.
It gave rise to service, transparency, uniform standards and formats of services. Currently, RGC has new tasks and goals: development of its own production and upgrade of gas distribution networks taking into account their intended use to transport hydrogen. We asked Oleg Nykonorov, CEO, RGC, about the progress of these plans.
How effective are the existing gas distribution networks in Ukraine? What one can do to improve them?
— For almost 20 years, regional gas companies have been servicing Ukraine's gas distribution systems reading the maps from the Soviet Union times. Two years ago, we completed the digital model of these systems. It took us 7 years to develop this model. Now we know exactly how the state of the networks change, how effective they are and why.
What is the reason behind the inefficiency?
— Gas networks – the distribution system – was designed for 120 bcm m of capacity. At present, the total gas consumption in the country is 25 bcm which is 5 times as less as the designed capacity.
In addition, in the 1990s, networks were built keeping in mind the available capabilities, depending on the situation, without any master plan for the development of the system as a whole. As a result, regional networks often represent different segments both in terms of quality and technical standpoint. This inconsistency is another reason for inefficiency.
That is why we intend to reconstruct this system. We call it redesign. Redesign is needed to make the system cost-effective and technically efficient. Without this redesign, the ongoing operation of the gas system will be, to put it carefully, very expensive.
Does redesign simply imply cutting off the excess?
— Distribution system is like the blood circulation system in the human body. It is impossible to take and cut off some large pipe, otherwise the whole system will die. There is no simple solution. Two years ago, we got a holistic understanding of what this system looks like in digital format. We simulated hydraulics for clusters of customers in order to understand capacity demand. Which gas pressure regulating points (GPRP) will become redundant and need to be removed, in which places pipes have to be replaced with a smaller diameter, etc.
What end result do you expect?
— First, we expect to improve the safety and reliability of the system. Second, operating performance, i.e. reduced maintenance costs, labor costs and demand for process gas. Pilot projects with a payback period of up to 10 years show that you can go from small goals to large ones; it makes sense from the economic point of view.
You have a business unit, RGC Production, manufacturing equipment for gas networks. How and why did it come into existence?
— We tried to find a model that would allow us to engage as many employees as possible in the process of change. One of the tools include the Leadership Development Program, which we launched in 2018 together with KMBS and Lviv Business School. According to the terms of the Program, graduates prepared and presented their graduation projects, which were evaluated by the jury. The project for the production of equipment for gas networks won by an absolute majority of votes. RGC undertook to implement this project. That's how RGC Production appeared in Lviv.
How much was invested into this project?
— In total, about EUR2 million. The plant was commenced in 6 months. In terms of product quality, it is second to none in Ukraine. Today the plant is 100% loaded and operates in two shifts. We have created 200 new jobs from scratch, from a students' project, by building a modern factory in the place of an old semi-abandoned workshop. Now we are building another plant in the Dnepropetrovsk region.
Who are the customers?
— About 50/50: half are bought by gas distribution companies, and the other half are bought by gas consumers.
Are these contests held annually as part of the Leadership Development Program?
— Yes, we call them battles. In 2019, the winner was the customer service reorganization project.
Is it about creating client spaces?
— It is much bigger. Our 104.ua service company brings together the virtual and the real spaces. The customers can receive the same set of services both online and offline. Moreover, they can do it in all regions.
Where else can innovative customers' spaces emerge, such as the 104.ua Center opened up in October in Kyiv, on Khreshchatyk street?
— At present, there are 125 modern Customer Support Centers operating under the 104.ua brand. However, the one on Khreshchatyk street is of a completely new standard. We are getting the first positive customer reviews. Consequently, we are considering the options for creating client spaces of this format in large cities.
In many companies, quarantine has accelerated the digitalization of business processes and customer services. What was happening in RGC during that period
— When quarantine slowed down some processes, it stimulated the companies to search for new solutions. We have developed express registration for our online services. However, some services cannot be moved online. For example, issuing sealed statements or submitting documents which require a customer to affix his or her signature. It is for this reason that we did not completely close our Customer Support Centers; as a trade-off we arranged for a pre-appointment, which guaranteed safety. We moved 80% of requests online, though.
How many customers are currently using your online services?
— Out of 8 million customers about 7 million are active users. During quarantine about half of them used our online and mobile services.
How are you going with the 104Smart project to transmit gas meter readings to the company and customers' smartphones using modem?
— I will show you how it looks like since I am the client of our company (Oleg pulls out his smartphone and launches a special application). I get readings from my gas meter every day because I have a 104Smart modem installed. It is convenient as everything is done automatically and is under control. Modem is compatible with the most of the widely used gas meter models in Ukraine.
To what extent are customers ready for such automation?
— Initially, it was clear that it was a niche service designed for those who did not want to contact the gas company representatives yet again. We have gotten in our head the emergency phones "101, 102, 103, 104". Communicating with them was stressful on a subconscious level. To avoid it, we offered a 104Smart modem that allowed to address some of the issues pertaining to gas supply without the presence of a tally man. All they have to do is to pay their bills with one click; after all, the consumption volumes have been already automatically transferred.
Is this service in demand?
— Our production keep running at full capacity.
RGC is currently exploring the opportunity of transporting hydrogen through gas pipelines. Why do consider this line of effort relevant for our country?
— When Tesla first announced that cars should be electric, their competitors laughed. Today, those who were laughing make electric cars.
What is happening with hydrogen? Three years ago, this issue became a priority on the agenda of European gas systems operators. It all hinged on the development of green energy, the share of which in the EU energy balance this year may reach 45%. However, this gives rise to a problem of storage. The first method is to use battery technology. The second method is the concept of power to gas, when hydrogen is produced using electrolysis.
This result in significant volumes of hydrogen that need to be delivered to customers. Pipeline transport is the cheapest option. We communicate with our partners within the frameworks of Marcogaz and many of them are already getting their networks ready to work with hydrogen, investing billions of euros in modernization. Sooner or later Ukraine will face this issue as well.
Do you need to change something in the pipelines themselves to make it work?
— We must complete all stages of our study. Our networks are different from the ones in Europe. Aside from difference in materials, our networks are well worn. We need to understand how hydrogen will affect the steel of the pipes, joints and connections, customers' equipment and gas meters.
How long do you intend to study and test these issues?
— 2.5 years. The first hydrogen tests started at our test sites in August. Scientists from the institutes of the National Academy of Sciences of Ukraine also take part in the experiments.
Can the story of hydrogen somehow affect the optimization of gas distribution systems?
— Yes. Our inefficient systems with the excess capacity have to be redesigned using hydrogen-ready materials.
In your opinion, who shall initiate the changes in the company: the shareholders, top management or all employees?
— Effective changes are those that are supported by the team, the management and the shareholders. If someone of this chain falls out, the changes will falter. The best projects are born inside the company, i.e. the team believes in these projects and charges the management with this faith.
What were the key transformations that RGC has undergone in 10 years of its existence?
— First. The concept of service appeared in gas companies. Now we discuss which service is better and more convenient, how to improve the quality of the service. There was no such discourse in the past.
Second. Gas distribution industry has moved to using different technologies. It has been digitized. While in the past experts were using the pencil, the journal and a floppy disk, at present, experts "in the field" use a smartphone and a tablet. In offices they use computers and software that connects hardware (pipelines) and the business processes.
Third. The people. Management has changed drastically in 10 years. The industry enjoys the prospects of growth and opportunities to implement projects. It attracts young people who are ready to transform the company, striving for progress.
How do you see RGC in 10 years?
— I see it as a European company in every sense. I would like the gas system to be redesigned in the next 10 years. This is the most important task. We've started the waive of innovations and I would like to keep it going.