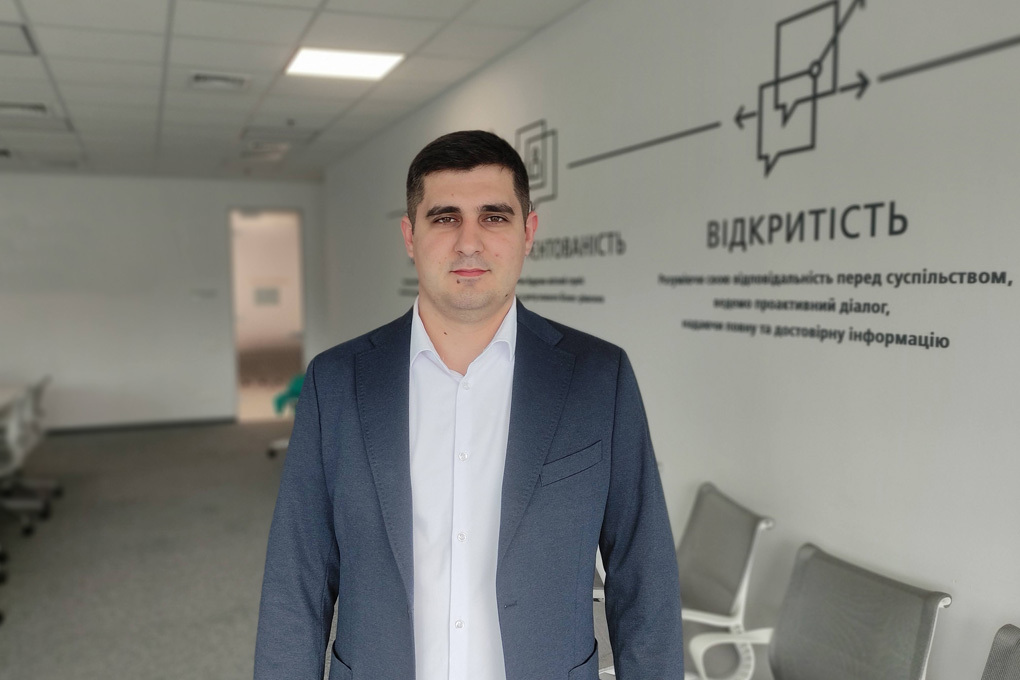 Advanced gas distribution networks require sophisticated technology and software solutions to monitor and maintain their operations. These solutions will also allow you to acquire data on the network operations in real time and perform early diagnostics. "Regional Gas Company introduces telemetry systems at gas control points. These systems will receive data from many sensors and transfer them to the general SCADA system in real-time.
RGC also develops smart meters for household consumers that will massively simplify and improve gas accounting. In his interview with "EnergoBusiness", a media outlet, Yaroslav Khavrel, Head of Research and Development, RGC, told that the company plans to test and install sample pieces of equipment in certain regions of the company's presence already next year.
Dmytro Sydorov
Prevent an emergency before it occurs
– RGC is investing heavily in the upgrade of the gas distribution networks. Telemetry systems for gas control points are just one of the investment destinations. How far did you go in developing these systems?
– We are currently at the stage of designing the system. To understand the importance of this system, you can compare a regular and a smart house. They seem to have everything similar: walls, roof, furniture, engineering systems, and everything else, but there is no proper control over all this.
Our system will monitor all gas control point parameters important to DSO operator: gas pressure, temperature, activation of pressure safety valves, filter pressure differential, activation of pressure release valve (emergency activation or leakage), gas contamination of premises or cabinets, and door openings.
Our controller is the most versatile, which allows you to build any system on it. Theoretically, you can connect more than 200 different sensors to it, although in practice we will work only with 12-30 sensors.
The telemetry system will take measurements at regular intervals. For example, the pressure must be measured every minute, the gas contamination - every 10 minutes, and activations of the safety valve shall be measured 24/7. Some communications will be routine when the system transmits information to the higher level system.
Some communications will be unscheduled or in case of emergencies in order to transmit data from telemetry systems to the SCADA system (an IT setup that collects and processes data from metering devices and telemetry systems in real-time - ed.). For example, if the pressure reaches an emergency level, the controller will independently run an unscheduled communication and transmit information to the dispatch operator.
– Do you imply that all telemetry systems will feed data to the general SCADA system?
– That's right, the general system, which can have up to 1 million devices connected.
– How far did you go in developing this telemetry system?
– We have already developed a controller. We have chosen components for it, designed and ordered controller boards, received sensors of various types from various suppliers, and are testing them.
Our major task is to find the optimal solution in terms of price, quality and performance as there are various approaches to addressing the same task. For example, we can measure the filter pressure differential using two digital sensors (before and after the filter) and compare the obtained readings. Another approach would be to order a digital pressure differential sensor. Otherwise, we can install a diaphragm differential pressure indicator with a reed sensor.
The geography of suppliers also plays a role. We try to install quality components produced by Ukrainian suppliers. European producers set standards in terms of quality and reliability, China proves that products can be similar to the European ones but at a lower price.
As a result, we have to get a balanced, functional, and reliable device at an affordable price.
– When do you plan to produce the first specimens of the system "controller + sensor" and test them?
– We plan to test the first specimens of the telemetry system in October - November 2022. By the end of the year, the first 3-5 specimens should be installed in the distribution networks for test operations. We have to set up and test the solution and its components for reliability.
– Will they include equipment from different manufacturers?
– We will choose the best out of the list of five different manufacturers of pressure sensors.
– In other words, your task is to find the optimal solution, which you then scale up to the entire gas distribution network?
– Absolutely. We order 10 test controllers. We have a climate chamber operating under temperatures ranging from -40C to +60C.
We will analyze how the controller will work in such an environment, check for failures and examine how the sensors operate. Approximately 5-7 sets of equipment will pass this selection procedure followed by 2-3 months of test operations.
As a rule, the test operation is followed by another examination and errors and improvement proposals are taken into account. Then, a new board assembly and software are released; it is highly likely that at that stage it would be a finished device that could be used for a pilot project.
The pilot itself is scheduled for 2023. Within the pilot project, RGC intends to install about 30 telemetry systems in Lviv and Ivano-Frankivsk regions.
It means that we will test the telemetry system in 2 stages, i.e. 5-7 specimens during the first stage, followed by 30 pieces during the second stage, and then we will scale up.
– How could DSOs benefit from the introduction of telemetry systems at gas control points?
– First, we have an emergency dispatch service, the key task of which is to locate accidents and liquidate their consequences. Equipping gas distribution networks with telemetry systems will allow DSOs to switch from responding to emergencies to preventing them.
For example, dispatch operators could see even the minimal deviation in the way the controller operates, which could cause the gas supply to 10,000 consumers to stop. Emergency response service will do everything to prevent the accident.
Secondly, we could use the readings of the telemetry systems to monitor the state of the controller, the way it operates, and whether it requires non-routine maintenance. We will receive a lot of data that would allow us to do a series of statistical surveys, measure pressures, and maintain indirect accounting of gas in the distribution networks.
– Let me make sure I've got this right. Usually, before the accident takes place in the gas distribution network, the readings of the devices deviate from the standard ones, and your task is to notice this deviation at the right time?
– Absolutely. Under normal operating conditions, the controller works with a permissible tolerance of 10%. If the excess pressure level reaches 15% or more, the safety-relief valve starts releasing gas into the atmosphere. When the pressure increases by 25% or more, the safety shut-off valve shuts down the gas supply completely.
Consequently, we have a period of time during which the pressure builds up. When the pressure passes beyond the +10% mark, it is obvious that something is wrong with the controller. If the pressure exceeds the regular level by 15%, it means that you need to go to the gas control point as there is the possibility of an accident.
Indeed, a pressure safety valve can shut down the gas supply completely. This is an unwanted outcome, though, as in this case the gas distribution network will stop running and the gas workers will have to perform a significant amount of work to set it back in operation: to purge gas pipelines and re-supply gas to the consumers. In the case of residential consumers, this means that the gas companies would have, first, to go around each household to make sure that people have their taps turned off, and only then supply gas.
Telemetry systems allow you to prevent emergencies even at the stage when gas distribution network parameters have only begun to deviate from normal ones.


Telemetry systems for each household: benefits for the population


– For residential consumers, RGC offers gas meters with modems that transmit data remotely. Is it your proprietary product or a third-party development?
– This is our in-house product. Modems are installed on all existing models of meters.
Our division, RGC Metering, is currently working to launch the production of a two-in-one solution, i.e. a mechanical meter with a modem built into the housing.
– How far did you go developing this two-in-one meter?
– We completed designing this meter and laboratory testing: we learned how the meter withstands subzero temperatures and how it transmits data to the SCADA system. We are about to start the certification procedure and after that, we will put it into production.
The first batch is to be produced in Q4 of this year. In Q1, 2023, we plan to install it on the gas distribution network.
– How many meters do you plan to produce in the first batch?
– It makes sense to produce in excess of 10,000 units. New meters will be installed as a part of the investment program and offered for commercial sale. Real estate developers install new meters. As a part of the investment program, we will replace the old meters that have not passed verification with new ones.
– What will be the price of a new meter compared to the conventional one?
– The price of the smart meter will not be higher than that of the conventional meter and modem, there may be even some cost savings since we produce not two devices (a meter and modem), but one device. Consequently, we assemble not two, but one device.
– How will consumers benefit from the installation of smart meters?
Compared to a regular meter, a smart meter will transmit gas consumption data automatically; you will not have to do it yourself. These days, many people have left, they are not at home. As they do not transmit meter readings, they receive bills based on the projected readings, i.e. the volumes of gas that people did not actually consume. Smart meters will allow you to eliminate these issues
and increase measurement accuracy. Suppose that, due to a malfunction, the meter drives up the volume of gas in excess of what the household normally consumes. In that case, the gas distribution company will notice this deviation through the SCADA system and dispatch a technician to examine the meter. In the absence of the modem, it would take more time to initiate a request through the contact center, to agree on the date with the technician, etc.
Compared to conventional meters with a modem, smart meters offer higher safety since the assembly and testing of the finished device takes place at the factory. Smart meters are also more compact.
Replacing conventional meters with smart ones, as a part of the investment program, is the best option for consumers since they will not have to pay anything for it.
– Do you develop similar smart solutions for commercial consumers of gas and gas producing companies?
– Large consumers that consume more than 16 cubic meters of gas per hour install industrial pressure controllers. We are moving step by step: at the moment, we address the issues of the most numerous consumer segment, and in the future, we shall offer solutions for other market segments.


What makes the proprietary development better than the third-party solution
– You mentioned that you have modems of proprietary design. Do you develop modem boards in-house?
– Absolutely. This is exactly what our research and development division is doing. Aside from this, we develop software for modem boards on our own. This is handled by the RGC programming staff.
You may ask, why did we start developing telemetry systems in-house?
In fact, there are a number of reasons:
1. Systems available on the market were developed more than 10 years ago using electronics that are no longer produced or hard to purchase. Outdated electronic components are too heavy on electricity and do not allow you to use batteries that would make the systems autonomous.
2. Another important issue is that the telemetry systems available on the market use their own data transmission protocols. According to our corporate procurement policy, we cooperate with at least 3 producers. Consequently, for the SCADA system, we would have to implement various data transmission protocols, and this does not come cheap. In our proprietary telemetry system, we implement a European, open data transmission protocol, which can be easily integrated into your SCADA system.
3. Similar systems offered by other companies can be installed only in the auxiliary room of the gas control point. We can use them to supply the needed telemetry systems for gas control points (GCPs). However, GCPs make up only 10% of the gas distribution networks. In most cases, telemetry systems have to be installed inside the GCP cabinet, which is an explosion hazardous area and requires certification. All European alternatives are installed in the explosion hazardous area, and we decided to design our own telemetry system in the same way.
4. We designed a controller that can receive information from sensors with various outgoing signals and from various producers. This is yet another advantage of the proprietary telemetry system.
To sum it up, mass implementation of telemetry systems in gas distribution networks is impossible or impractical without in-depth modernization of the systems available in the market. At the same time, in-depth modernization actually implies designing a totally new system using new electronic components and boards, software, and data transmission protocol. The customer pays for any changes since the costs of designing a new telemetry system are included in the price of the finished product. Therefore, we decided that it would be more affordable to develop a telemetry system in-house.
– Do you imply that the telemetry system developed by RGC does not depend on an external power supply?
– Absolutely. We reduced the consumption as much as possible so that they could work for about a year on one battery charge. This reduces the number of walk-round checks required for GCP maintenance. To put that into perspective, telemetry systems that we use now require changing batteries every month.
The new telemetry system will also be connected to the Workforce management software affecting the employees' performance management and the safety of the facilities. A telemetry system would allow you to manage the visits of employees to GCPs and the time spent on each GCP
Since the dispatch operator gets notified the moment when the GCP cabinet doors are opened. We know exactly who attended the site and when: when opening the GCP cabinet door, our employee needs to pass authorization, otherwise, an alarm signal is sent to the dispatch control room.
"EnergoBusiness" portfolio